Upcoming Sales:
Click on the box for more information.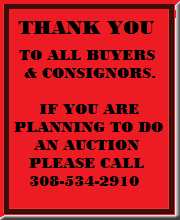 PROFESSIONAL AUCTION SERVICE
With years of experience as a professional auctioneer, Thad McDermott and the McDermott Auction team make the difference for your auction. We offer full auction services with competitive rates. We plan and execute your auction from start to finish with the attention to detail is second to none. Call us today to discuss your sale.
OUR TEAM
A professional team maximizes your sale profits. Our dependable and hardworking staff includes our ring manager, and ring assistants who watch carefully for each bid. Our clerks and cashiers make sure that your profits are collected in a precise manner. Our marketing team targets a precise audience for your sale. Together with Thad, this team makes the difference between an ordinary auction and an extraordinary auction.
Sales can be simple or complex. We have the professional team to handle your auction, from start to finish, in the most profitable way possible.

For all of your auction needs, call the auction professionals - McDermott Auction Service, LLC.